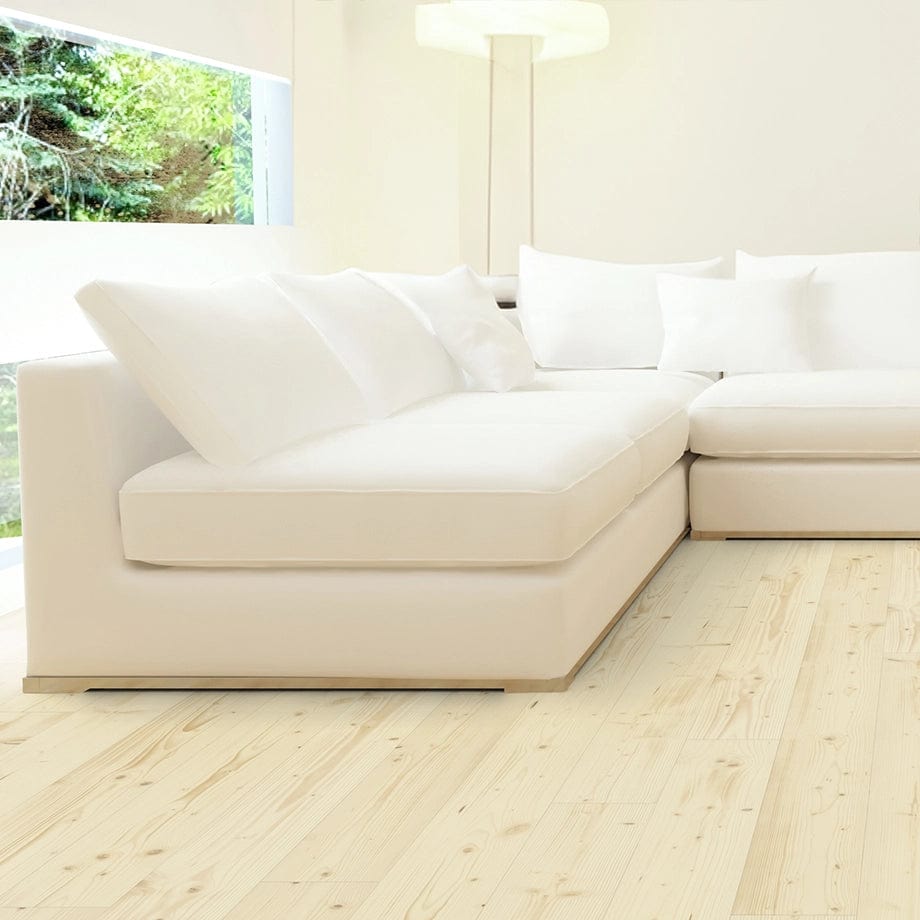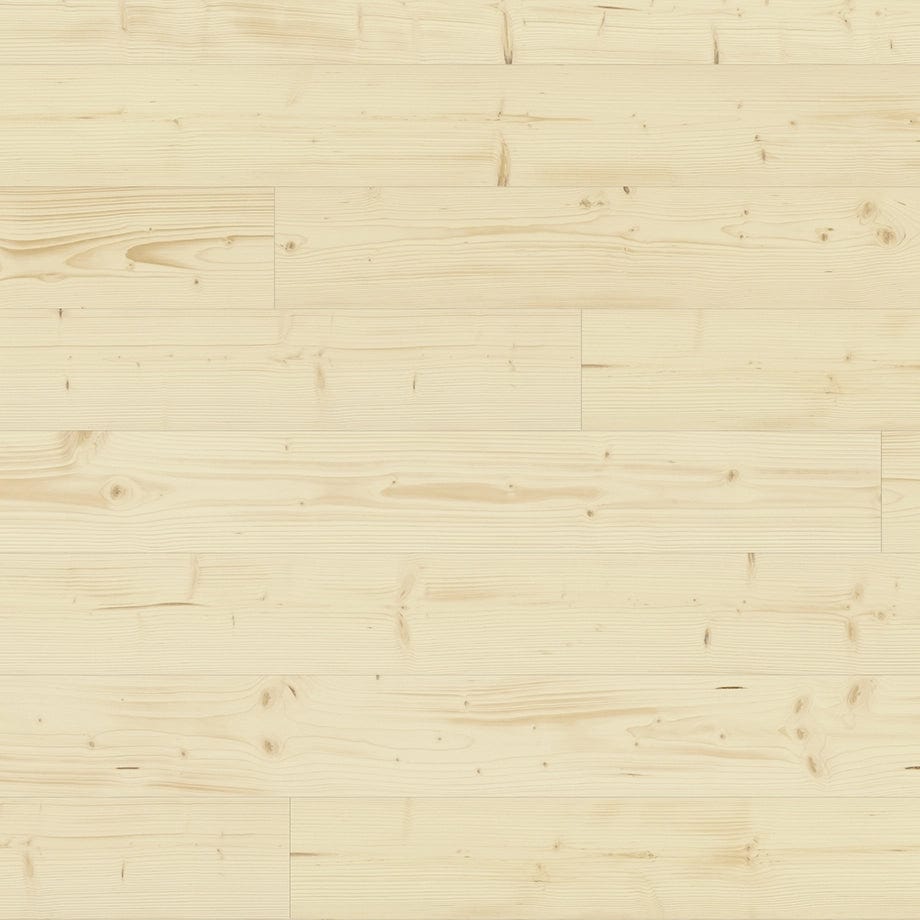 Solid wood floors Urban Trend SPRUCE - soft white
★★★★ 4,3 stars in
Google reviews
Made in Austria - directly from the manufacturer
Floor for many generations
Indestructible & Valuable
Delivery date flexible
Of course, you can flexibly determine the delivery date to best suit your project.
Let's calculate your order quantity! What is the size of your area in m²?

Here is your result:
Packages (each €85,04)
€
Sufficient for:m²
Dimensions & Packaging

YOUR solid wood floor is made from a single piece. The specified thickness of 15 mm or 20 mm is pure wood and thus pure top layer. The width is the effective width - so the width that is actually used in the laid state. The lengths are 1.473m and 1.973m, 50:50 in pieces. Your solid wood planks come in packages. Our calculator helps you to put the right number of packages in the shopping cart.
---
Special Feature/Appearance Solid Wood Plank

The planks have a V-groove all around. This chamfer highlights each individual plank and gives the floor its typical character. The 'sorting' of the floor planks says nothing about the quality but only about the appearance. Rustic and lively or calm and harmonious. Through further finishing of the planks, they differ in surface structure and color tones. From natural to stone grey - from sanded to aged, there is something for every taste.
---
Care

YOUR solid wood floor is easy to care for! Wipe and vacuum as you wish. Your solid wood floor doesn't need much care. Just a lot of love and the right care products. It's like with friendship. With care, it lasts longer. You can also get the right care products from us!
---
Installation & Underfloor Heating

The planks have tongue and groove on all 4 sides for endless installation. All our planks are approved for underfloor heating. When installing on underfloor heating, we recommend gluing the planks fully to the screed. For renovations or a floor construction with a wooden substructure, the 20mm plank can also be screwed.
---
Free Shipping
Free standard shipping on orders over €2000 for AT, DE, DK, BE, and LU. For SE and FI, free from €4000.
Postal items like care products always ship free of charge.
Satisfaction Guarantee
Your satisfaction is important to us and we pride ourselves on delivering high quality wood products and excellent service.
Freight forwarding
Smooth shipping and delivery by courier
The spruce of the Urban Trend collection values ​​a calm and harmonious ambience.
With its moderate and calm appearance, the spruce brings natural charm into your home. Nevertheless, the floor looks elegant and modern. This is the core of the Urban Trend collection. The successful combination of stylish elegance and natural beauty.

This floor is oiled with natural oils and is ready for living.
If you want to feel snug within your own four walls, then add our solid Urban Trend SPRUCE - soft white flooring into your shopping cart now!
Frequently Asked Questions about Solid Wood Flooring
Can I see and touch the solid wood flooring somewhere?

Yes, that is possible. Visit us at our stores or order a sample to your home.
---
How do I calculate the required amount for flooring, skirting boards, and adhesive?

Guidance for this can be found on our website under 'Help with Quantity Calculation'.
---
Is there a minimum order quantity?

A minimum order quantity may apply to certain products. Details can be found on the respective product page.
---
What are the delivery times?

Delivery time varies depending on the product and availability. More precise information can be obtained during the ordering process.
---
Can products be returned?

Yes, we offer a right of return. The conditions for this can be found in our return policy.
---
Are products also delivered abroad?

Yes, we also deliver to selected countries outside of Austria. Shipping costs and conditions can be viewed online.
---
Choosing a selection results in a full page refresh.
Popular products

Solid wood floors Alpine Style OAK - natural

Our Alpine Style Oak keeps it vivid and rustic. It is a practical and universally applicable floor that brings cosiness into your space. Thanks to its knots and the spectrum of warm and natural colors it can be easily combined with different furnishing styles....

Solid wood floors Pure Nordic ASH - snow white

"Not too much, not too little, but just right". The striving for balance and harmony in all aspects of life. How do you bring this PURE philosophy of life into your own four walls? With solid wood flooring from our Pure Nordic Collection -...

Solid wood floors Alpine Style LARCH - natural

Our Alpine Style Larch keeps it vivid and rustic . The larch brings the alpine character into your home. The striking knots, the play of markings and the typical grain allow you to literally smell the fresh larch needles or imagine the red and...

Package price:

From

€68,55
Back In Stock Notification